Live your best to life's end.
There's still lots of life to live–whatever health and medical decisions that may be ahead. For many, feeling 'alive' right to the end means feeling useful for as long as possible. For others, it's peace of mind that brings a peaceful end. For most, it's feeling wanted, valued, respected and listened-to that are all-important. The pleasures of everyday life can be just as meaningful: what makes you smile, what brings you happiness and joy and what gives you comfort.
It's often that small stuff that can make a big difference: There are creative ways to accomplish what may seem out of reach – like the man on the rock who may not be able to be physically near an ocean, but may be able to turn to technology to inspire a solution. Paying attention to small pleasures shifts the focus from 'what I don't want at life's end' to 'what will make a positive difference to me at life's end.' It's an approach with its own reward: helping someone have the best end can help everyone involved.
Need Inspiration?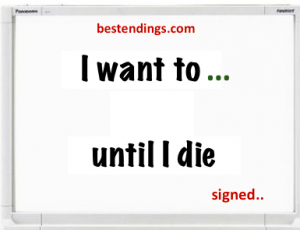 '

Fill in the blank

'
I bring a whiteboard to international health conferences, summits and workshops and asking healthcare professionals what small things they'd want right up until the end. Filling in the blank put a smile on each and every face. Check out MyBestEndings on instagram for more.
---
---
Need Information?
It can be a long road to learning about and planning for the best end-of-life experience. There's lots to consider and emotions to tackle. Pick your own starting points: personal or medical decisions  or specific topics.  You can come back for more and then document your end of life wishes
---
musings, observations, insights, conversations
Of the three siblings, Ricky – the sole daughter – was closest to her mother, Anna. "When my marriage ended, my kids and I lived with my mother. We all adored her." In the last three years of her life Anna- who died at age 91 – was beset by Dementia. "It was more than memory loss – it was her wonderful personality that vanished." In spite of the pain of her beloved mother disappearing, Ricky took care of her until the end.
read more
Who'd've thought that simple, one and two-syllable words – which is one of the the criteria for Grade 6 reading level – could cause so much confusion, upset and medication errors. Out of context, even every-day words can confound. Consider these (true) examples: In a maternity unit, expectant mom is thirsty and hungry. When she asked if she could eat or drink anything, nurse, hurrying to the next patient, answered, "only sips and chips." Later, same nurse saw, with horror, mom eating potato chips, taking sips of a diet soda. To that mom-to-be, those one syllable words didn't say sips of water and ice chips. Seeing his patient in the wrong hospital unit, Doc says, and patient hears: "We're going to get you to a different floor." After doc leaves, worried patient says to nurse, "The floors are so cold. Will I have a blanket on the other floor?" Son, taking his elderly mom to the doctor to have her rash checked out. First visit, no source was identified. Second visit, doctor said rash was static. Until the third visit, 3 months later, when doctor said the words: "the condition of the rash hasn't changed", the son had tried to find a fabric softener that'd reduce static in mom's clothes. Early evening, as I was leaving an office building, one of cleaners in the elevator with me sighed so mournfully I asked if she was ok. "My husband is going for by-pass tomorrow. Last year, the doctor told him to take coated Asprin©. We didn't understand coated, so he didn't take it. Now he's in the hospital." (Note this... read more
Medically Assisted Dying When medical assistance in dying – MAID  (also referred to as Medically Assisted Dying – MAD and Physician Assisted Dying – PAD ) was just a twinkle in eye in most of North America, I began my layman's journey into learning all things end of life – encompassing much more than 'help me die'. Now, with medical assistance in dying taking center stage, I've made it my business to attend every Town Hall, Presentation and Info session. While the 'license to kill' crowd takes every opportunity to insist it's suicide and murder, little time and attention is paid to two important outcomes: When MAID is refused Benefits of the process requesting MAID Taking a leaf from the 'suicide and murder' crowd, consider what happens when the MAID request is refused: You are condemning someone to a prison of suffering. A lifetime sentence with no parole. For some, it's akin to sanctioning their torture. Of those who say, with a sneer in their voice:  "oh you can off yourself anytime you want, it's the 'medically assisted' we object to"  Consider the aforementioned – imprisoned by their own disease whose very condition prevents them from taking matters into their own hands. Suicide: an act of desperation. MAID: an act of contemplation …with benefits. And therein lies an unexpected benefit of applying for MAID. In the poignant podcast series, 'Better off Dead' Andrew Denton takes personal umbrage when he hears a 24 year old applied for MAID. "I think of the years ahead of her – a mother, a wife, a career woman." To this well-meaning sentiment, my rejoinder... read more