Men writing from the inside out about life's end.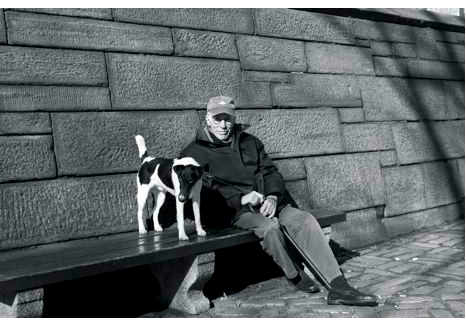 In the picture in The New Yorker, sitting with his dog, on a bench by a park, Roger Agnell, looks none of his 93 years.
Famous for his sports writing, 'This Old Man' is Agnell's reflection on life, starting ith what is and isn't working- kind of a Medical History but with the life that was going on around the health issues.
The lower-middle sector of my spine twists and jogs like a Connecticut county road, thanks to a herniated disk seven or eight years ago. This has cost me two or three inches of height, transforming me from Gary Cooper to Geppetto.

My left knee is thicker but shakier than my right. I messed it up playing football, eons ago, but can't remember what went wrong there more recently. I had a date to have the joint replaced by a famous knee man (he's listed in the Metropolitan Opera program as a major supporter) but changed course at the last moment, opting elsewhere for injections of synthetic frog hair or rooster combs or something, which magically took away the pain. I walk around with a cane now when outdoors—"Stop brandishing!" I hear my wife, Carol, admonishing—which gives me a nice little edge when hailing cabs.
In the New York Times, James Collins (author of Beginner's Greek – a novel) title had me gearing up for a grim diagnosis:
My office supplies are going to outlive me
But, no! No health issue prompts Collins. Instead, it's when he takes stock of the sheer number of staples in his office he has yet to use (5,000 should you want to know), that Collins gives us some serious and often seriously funny reflection about life and its finality – all based on crunching numbers.
If I read one book a week … but you and I know that I don't read one book a week, I read a couple a month, grazing in a few others. If I read two books a month, it would take me 137 years to read those unread books. So there we have it: absent the discovery that those long-lived, underfed mice thrive equally well on a diet of vodka and peanut M&Ms, I am not going to live for 137 more years, and therefore I do not have enough time left to read the books I own. Death will intervene (thank God) well before I get around to the later volumes of "A Dance to the Music of Time."
By his count, his conclusion:
When do you realize that you are going to die? When you realize that, in the remainder of your life, everything is countable.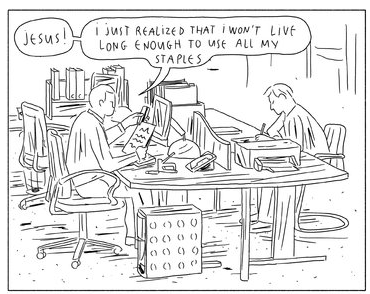 Then, there's Noah Michelson, Editorial Director of HuffPost Personal who drew me in and blew me away with:
5 Things I learned from helping my Dad Die
Michelson's courage and grace and strength to give understanding to what 'makes up the day-to-day' when you're with someone who's dying cautions what to expect: Hours and hours of doing nothing. Rather than railing, he finds release:
To pass the time, I decided to read the Tales From the City series by Armistead Maupin. I had heard good things about it, but I had no idea that I would be so wholly sucked into the charming universe that Maupin situated in San Francisco beginning in the '70s.
I love that he wears his love for his father on his sleeve:
In honor of my dad, Robert Michelson, one of the most incredible men who ever spent a little time on this planet:

He read voraciously, wrote op-eds for our local paper and traveled whenever he could, but more than anything, he was genuinely curious about the world and the people around him, and his curiosity was infectious.

He loved my mother with a bright, white-hot kind of love that I haven't seen again since he left. He loved me and my brothers unconditionally, and he made sure we knew we were loved. He asked questions. He gave answers.
His dad died within six months of diagnosis, having made the decision – a month before he died not to pursue further. Of that last hard month, when Noah was with him:
"The right to die humanely shouldn't exist only in our fever dreams."
With these three fine stories each of these fine writers are spirit-soaringly open with their love and fears and pride and sorrow. Such insights and perspectives and emotions.
Agnell, Collins, Michelson.
A-Men.
Kathy Kastner©