Music has charms they say.. (Joe Jackson: 'Slow Song')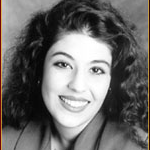 Amy Clements-Cortes
For Amy Clements-Cortes, PhD, MusM, MTA, the charm of music is its ability to accomplish a multitude of health and wellness goals. One of Amy's areas of specialty is end of life music therapy and specifically using music to help clients complete relationships.
"When we complete relationships in our lives, there are key sentiments that need to be expressed to help us accomplish these completions. "I Love You," "I Forgive You," "Forgive Me," "Thank You," and "Goodbye."
Music can unlock emotions and communication where memory loss or the ability to speak has become an issue. For example with dementia, Parkinson's and Stroke survivors.
"Music provides an outlet for expressions of grieving and loss as people come to the end of their lives. Music helps express feelings that are difficult to speak about such as Holocaust experiences."
Working with fellow health-care professionals such as those in speech/language therapy:
"I can help augment the work clients are doing in speech therapy by engaging the client in vocalizing vowel sounds to music, so they can hear their own voices."
It's not just any music that Amy uses: she makes it specific to the situation and the client, asking what music they liked, gently coaching with prompts such 'what soothes you, what songs did your relative listen to when they were in their 20s?.' With the populations Amy treats, this isn't always possible. "It's a bit of a fishing expedition I'll research what music was popular in their day, or if they're from another culture, will consult with musicians from that culture."
Amy also uses music to reduce pain perception and anxiety. Along with fellow musician, David Bradstreet, they produced two therapeutic CDs specifically designed to target brain waves to induce states of calm and sleep for those experiencing anxiety, and sleep disorders.
Concetta Tomaino, vice president for music therapy and director of the Institute for Music and Neurologic Function at New York's Beth Abraham Health Services explains.
"It all has to do with the way we process sound. The rhythm and pattern of music synchronizes our internal rhythm and provides a cue for the body to move even when the body cannot provide that cue for itself."
In a Beth Abraham study of 20 multiple sclerosis patients and recovering stroke victims researchers, who published their findings in the Journal of Occupational Therapy, selected patients who could raise their arms only five inches above their knees. Researchers put a drum in front of the patients and asked them to beat the drum while music played. At first, the drum was a comfortable five inches above the knee. Each day researchers raised the drum slightly, and patients continued to beat it. At the end of two months, all the patients were raising their arms above their heads. Dr. Tomaino's conclusion:
"The music tapped into those patients' preserved function and cued them to move in a way they could not before."
Amy also uses drumming: "I'll use the drum beats to help improve range of motion, to help Parkinson's patients with their walking." I witnessed the power of the beat of the drum, during an educational day for clinicians, "Incorporating creativity into clinical practice" Held at Baycrest Health Sciences . Participants (clinicians) were each provided a drum or other noise making instrument (tambourine, shakers etc). As we made up our own rhythms, many of the elderly residents began to free-form dance, walkers, wheelchairs and all. It was totally uplifting.
The charm of music for me, is in a song that always lifts my spirits, and speaks of the rush of falling in love: Herman's Hermit's: I'm into something good
Interesting reading: Geriatrician, Dr Michael Gordon on sex and playing music together