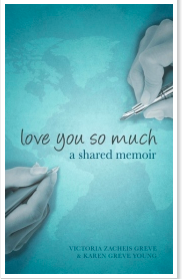 When Karen Greve Young gave me the hot-off-the press copy of 'Love you so much: a shared memoir' she explained:
"Sometime into my mother's treatment for ovarian cancer, we decided we wanted to do something meaningful."
Told by both daughter and mother, the title of their memoir is Victoria Zacheis Greve's standard email sign-off. Email proves its worth in this memoir: over the four and a half years from diagnosis to death, email connected mother and daughter who were living half a world away, and email connected Karen with her father, brother, aunt and friends.
These practical, poignant, personal exchanges offer a real picture of living under the cancer cloud. But they also show how life must go on, including falling in love, marriage, graduations, promotions, retirement, across-the-ocean and back travels, and infertility.
In an example of the strength they drew from one another Vicki – whose survival strategy includes trying to be unfailingly positive and determined ­– writes Karen:
"Keep up your spirits. If I can lick cancer, you can conceive a child….Love you so much."
Throughout the memoir love, support, respect, tenacity and humour ring true: Vicki addresses emails 'Dear pushy little sister' and, depending on the context, signs off as MOB (mother of the bride) and CA (co-author).
Also shared is the grim reality:
"All I want to do is to feel better and live to see my grandchildren – I truly don't think either one is in the card for me. In the meantime, I'm trying to live as normally as possible with a deepening depression and flagging energy."
Karen's correspondence, her narrative and the emails provided by her father, brother, aunt and mother's friends, educates on the language of ovarian cancer, its medical treatment, and its ravages.
Now a mother of two Karen, CEO Futurepreneur Canada/making the memoir happen was a labour of love and a cathartic experience "When my mother and I started writing together, reading each others' different perspectives on the same events helped us bridge misunderstandings and come even closer together. Once she was gone, writing my memories alongside her emails helped me connect with her final years and remember her strength, love and wit."
"Love you so much" is a memoir and wonderful legacy for sure. It's also, from readers' comments – a comfort and an inspiration.
"I felt as if I was walking side by side with Vicki all of the way to the end. From her relentless fight to stay alive to her quiet, peaceful end through the care of Hospice and her doting family, I felt reassured, less with fear, and no longer afraid of my own death."
All monies made from sales of "Love you so much" will go into cancer research.
Suggested reading: End of life: Grief and bereavement