"It quite honestly surprises me (the new kid on the block) that there aren't standard services to build Palliative Care."
Charlie Blotner, 21-year old co-founder of the tweetchat for those with brain tumours #btsm.  In learning more about Palliative Care, it just made sense that it should be part of standard services. Alas, not:
If you've seen one #palliative care program, you've seen . . . one palliative care program – Jill Mendlen #cccc17 #sharedstandards

— Allison Soeller, PhD (@allisonsoeller) March 14, 2017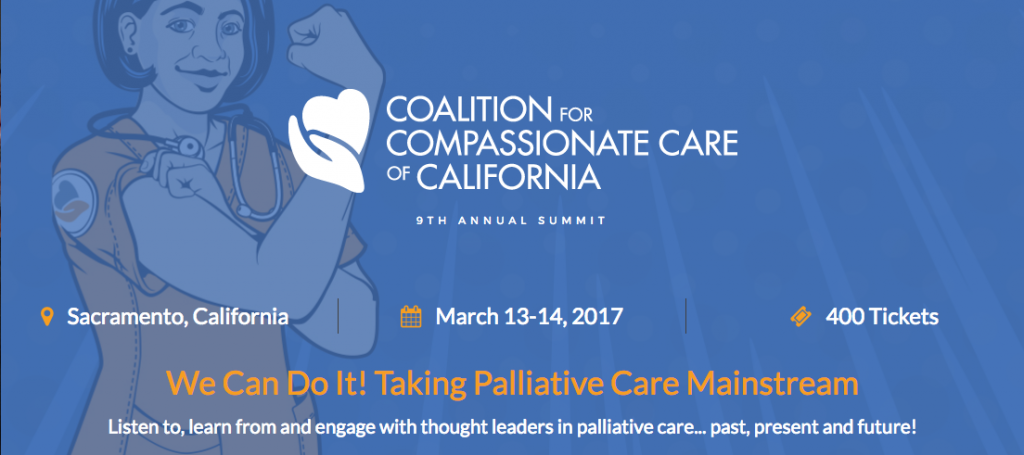 Charlie and I were amongst 17 Patients at the Coalition for Compassionate Care of California's Summit. The theme:  'Taking Palliative Care Mainstream'  Dialogue and discovery were the other 'themes' of the Summit as patients' perceptions of Palliative Care evolved. 
Palliative as 'the beginning of life':
"I thought palliative care = end of life, now I see it is the beginning of life." – #ePatient after our first workshop #palliative #CCCC17

— Elizabeth Jameson (@jamesonfineart) March 13, 2017
Peter Kafka was the ePatient in question in Elizabeth Jameson's tweet.  His  comment proved that there's still myth-busting to do.  Peter is one of the founders of a peer-support group for men with cancer.  A feat unto itself: getting men to a cancer support group. Peter will bring his newfound Palliative knowledge back to the group.
Patients included
It's extraordinary to have patients and caregivers together in the same room with healthcare professionals whose practice and outlook embodies person-centered care.  They are open to hearing from us. But first, the pre-conference Planning Session.
To work through the principles of Palliative Care, we ePatients met the night before the Summit. I planted myself at the table assigned to delve into communication, a key component of palliative care. Also at my table, artist and tweeter Elizabeth Jameson, whose Multiple Sclerosis didn't stop her from making an important point about communication. "Volume'"said she. I thought she mean to turn up the volume on her speaking device. But no. She was pointing out that in emotional topics – such as end of life – the volume of information can be overwhelming.
At #CCCC17 learning about the elements of #palliative care! #communication – happy #epatient at @CoalitionCCCpic.twitter.com/ZtyifMeSCB

— Elizabeth Jameson (@jamesonfineart) March 13, 2017
Several Patients put effort into making a poster.                              Elizabeth was one of them
In front of our #FacingMS poster @ #cccc17 – let's transform the waiting room together! #designthinking expanding the #narrative of #illness pic.twitter.com/njZqdlSVGR

— Elizabeth Jameson (@jamesonfineart) March 14, 2017
Describing Palliative Care
Explaining Palliative Care can be tough. Often it's seems an explanation of what it's not. Then, I met Palliative Dr Steve Pantilat, author of Life after Diagnosis I think he nailed it. I gave him a smooch in appreciation.
"Medical care that focuses on symptom management and quality of life."
Quality of Life: More than medicine
The day started with a brief meditation. Throughout the day,  The Threshold Choir brought the gift of a musical break to anyone in need.
The beauty of music #cccc17 pic.twitter.com/ClOhuKX5S4

— kathy kastner (@KathyKastner) March 13, 2017
They don't seem to do just one thing, these wonderful Palliative healthcare peeps.
 Jessica Zitter critical-care turned palliative care doctor. I couldn't put down her book, Extreme Measures and her Oscar nominated short film, Extremis should be mandatory viewing.
At last IRL meeting @JessicaZitter oscar nominee and dedicated #palliativecare md #CCCC17 pic.twitter.com/21m0FFhVGr

— kathy kastner (@KathyKastner) March 13, 2017
Dr Michael Fratkin's  Resolution Care uses telehealth to extend access to palliative services.

Living with Chronic Conditions
For me, meeting fellow Patients gave an insight into living with conditions like MS and Lupus. My room-mate (also an author: Wide Awake and Dreaming ) Julie Flygare, educated me on the chronic condition she has well-managed: narcolepsy. One of her missions; to meet Keynote Speaker, Dr BJ Miller
Getting to meet @bjmillermd was such a huge honor and joy! #CCCC17 pic.twitter.com/YWZnzgkMiz

— Julie Flygare (@RemRunner) March 14, 2017
Humour is healing
One of the keynotes was Dr Eric Cassell, whose 1991 book, The Nature of Suffering and the Goals of Medicine still resonates. Retired since 1998, he's still on a mission, as Julie captured in a tweet:
Getting to see Dr. Cassell speak in an hour at @CoalitionCCC #CCCC17 – healthcare hero of mine!! pic.twitter.com/zS1Xjz5U0U

— Julie Flygare (@RemRunner) March 13, 2017
His keynote was filled with humour. As an equal evangelist for humour and Palliative Care, I appreciated his 'cutting to the chase':
'Family makes 'em sick – eat your food – who gives a shit – they're gonna die – stop hovering' DrECassell #cccc17

— kathy kastner (@KathyKastner) March 13, 2017
Here's hoping, with the 400 strong attendees, and the impact of twitter, that the gift that is Palliative Care will become the Standard of Care, right along with 'curative'