Dementia: Communication, hard-to-manage behaviours and safety
A much needed re-framing of Dementia from Alberta Health Services clinical nurse specialists, Jennette Coats and Loralee Fox, who embrace care and caring for those with 'broken brains'. I sat in on their extremely practical and sensitive strategy session for supervisors of Home-Care Workers organized by Revera Health Care.Whose patient population increasingly has one or more Dementia: Alzheimer's, Lewy Body, Fronto-Temporal Lobe, Vascular

Attendees included nurses, occupational therapists, social workers, personal support workers and physiotherapists who shared some of their own coping stories, dealing with their own parents with Dementia:
"I could tell my mom all the awful stuff about my divorce. She'd forget as soon as I told her – so I got to 'dump' without guilt."
As the broken brain description implies, it's more than just memory loss that caregivers cope with. It's the responsive b behaviors – aggression, anxiety, agitation, wandering – that drains emotionally and physically. One of the strongest messages acknowledged the issue of time:
Caring for someone with violent behaviours of dementia can take 50% more time
Staying safe takes time: trying to be efficient can be self-defeating
"Rushing through can cause emotional distress and increase anxiety, agitation, and aggression."
From the Gerio Psychiatric Education program in Victoria British Columbia, the acronym, ABCDE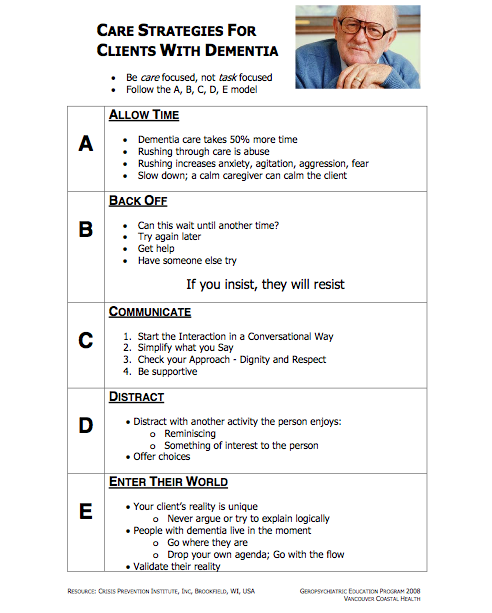 Apologies: One of the most powerful the calming strategies
I'm sorry – I didn't mean to upset you.
I'm sorry – you're right.
I'm sorry I made you feel (angry, hurt, dismissed..)
I'm sorry – I know you're trying so hard.
I'm sorry – this must be so hard for you.
One of the most ineffective calming strategies (hint: even without dementia it doesn't work well)
"You need to calm down!"
A collective rolling of the eyes was the response when attendees were asked: "How does that make you feel, being told to just 'calm down'."
As apublic member on the Board of the College of Occupational Therapists, I see Time as Enemy facing so many who are in the business of caring for us.
Absorbing this excellent education and hands-on training, I'm encouraged that these supervisors will have tools to support their home care teams of nurses, personal support workers, social workers, Occupational therapists.
Being increasingly involved in the end-of-life space, I have so much more respect and admiration for health care professionals caring for our elders. The title of my presentation: Dignity, Power and Patients and the songs we sing. My message: we all want to be treated with dignity and respect – patients, families and healthcare professionals.
If you liked this post, you may also be interested in tips from a Long Term Care Association Summitt, featuring Commander Chris Hadfield